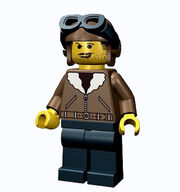 Harry Cane is a pilot and friend of Johnny Thunder, Pippin Reed, and Dr. Kilroy. While not one of the founders of the Adventurers, he is one of the older Adventurers around.
Biography
Edit
Harry Cane, while not one of the founding members, was a friend of the Adventurers in their early years. When Johnny Thunder, Dr. Kilroy, and Pippin Reed first travelled to Egypt, he was willing to help in any way he could. Often Harry would provide assistance in various ways, such as providing the Adventurers with transportation in his biplane or occasionally a hot air balloon.
Harry Cane would later accompany the adventurers to the amazon. Here he once again managed to find ways to help the Adventurers. He often managed to quickly transport them in his new zepplin.
Later Work
Edit
After Johnny Thunder got his pilot liscense, Harry Cane's role somewhat faded, especially after other pilots such as Roy Bishop and Jack Hawkins joined the adventurers, but he still manages to help the adventurers in any way possible.