Welcome to the Johnny Thunder RPG Wiki
The wiki about the Johnny Thunder (Adventurers) Roleplaying Game that anyone can edit (but preferably only members of the RPG).
---
The Johnny Thunder Roleplaying Game (more commonly known as the Johnny Thunder RPG or Adventurers RPG) is an online text-based game at BZPower.com, inspired by LEGO's Adventurers line. It was the third attempt at such an RPG, and the longest-lasting. This Wiki is devoted to collecting information from the RPG, such as all the treasures collected and quests that players have went on, into a single resource. If you are a member of the RPG, please create a user account (so I know who's who) and add information on your characters and treasures your characters have collected.
---
56 articles since December 2009
LEGO® is a trademark of The LEGO Group which does not sponsor, authorize or endorse this site.
What's New?
---
12/24/09 - This wiki is created!

5/24/10 - This wiki has 50 articles!

Contribute to this Wiki
---
To write a new article, just enter the article title in the box below.
---
Not sure where to start?
Check out Help:Starting this wiki for some tips
If you are new to wikis, check Help:Getting Started
Check out the Community Portal to see what the community is working on, to give feedback or just to say hi.
Look at the list of Wanted Pages and see if you can create anything that's on there!
Participate in the Contribution of the [Insert Time Frame Here] below!
Featured Article
---
1/19/10: Sam Sinister
---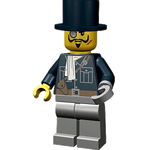 ---
We must thank PeabodySam for this article, since a lot of it originally comes from his Constructopedia Wiki's version of the article, that he generously provided for this wiki. And some information specific to the Johnny Thunder RPG's version of Sam Sinister (like what evil schemes he's been up to after digging himself out of a trap-door pit in Emperor Chang Wu's palace). And since it's at present the longest article on this wiki, and since it's also the featured article on his wiki, I have made it our first featured article.

---
Featured Article History
Other LEGO General Discussion Roleplaying Games
---
In addition to the Johnny Thunder RPG, a handful of other RPGs in the LEGO General Discussion forum on BZPower.com have wikis.

---
And in addition to the RPGs listed above, there are many more RPGs in the LEGO General Forum on BZPower.com that do not have wikis. A comprehensive list can be found here.
Contribution of the [Insert Time Frame Here]
1/19/10: Official Info
---
Right now, our wiki really lacks official information- not to mention information about events in the actual RPG. Sam Sinister's page (our Featured Article linked above) is filled with this kind of information, along with a lot of red links. And there are many other pages, like Johnny Thunder, which are empty of a lot of this official information. You don't have to know a lot about the RPG to do this- you just need to know something about the Adventurers storyline.