Ngan Pa is a Yeti Hunter. While not as prominent as Sam Sinister or Senor Palomar, he is one of the villains. He operates mainly in the Himylayas portion of The Orient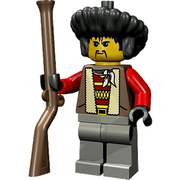 Biography
Edit
Orient Expedition
Edit
While Johnny Thunder, Pippin Reed, and Dr. Kilroy explored the Himylayas in search of the Golden Sword, with the support of their guide, Sangye Dorje, Sam Sinister met Ngan Pa, who was quite the opposite of the sherpa assisting the adventurers in every way.
Ngan Pa agreed to help Sam Sinister try to find the golden sword, the two worked together although both were foiled.
Villain's Alliance
Edit
Abilities and Traits
Edit
Ad blocker interference detected!
Wikia is a free-to-use site that makes money from advertising. We have a modified experience for viewers using ad blockers

Wikia is not accessible if you've made further modifications. Remove the custom ad blocker rule(s) and the page will load as expected.